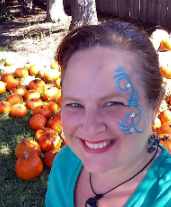 Amy Stump: Florida Native Artist - loves nature, art and family. It started with persistent doodling in elementary school on test papers and painting my bedroom ceiling at age ten; after reading a National Geographic article about the Sistine Chapel Ceiling, it is safe to say I was born an artist.
Worked at Clay County Sheriff's Office for 18 years, became a Forensic Artist in 2006, and assisted local and national law enforcement in identifying eyewitnesses, age progression/regression, and post mortem reconstruction. I loved every minute and continued helping local agencies in identification to assist in solving current and cold cases. Attended Flagler College and graduated with Public Administration Degree in 2009.
I was a St. Johns County Substitute teacher from 2015 to 2019 and in Duval County schools in 2020. After Covid, I had lost my education job, and I turned my part-time art career into a full-time art career. Scary? Yup. Did my parents think I was nuts? Yup. Did I persist and succeed? Yup. Would I do it again? In a heartbeat!
Since Covid, I turned away from my usual art income of face painting, art instruction, and art parties. I turned towards isolated art paths: Window Artwork, Custom Signage, Interior and Exterior Murals. I assisted friends and families in random jobs, helping people move, restoring furniture, repairing various furnishings, and reselling the pieces. You gotta do what you gotta do.
Maybe I'll return to face painting and tutoring in the future, but right now, my schedule is packed!
I am surprised and blessed daily by all that my clients ask me to do, and each day is a new adventure!